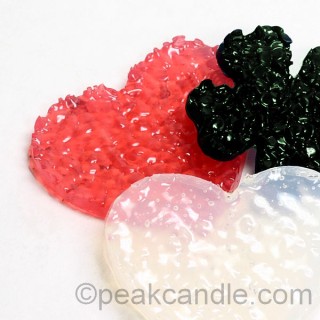 A quick and easy tutorial full of uses for your aroma beads!
There are many different ways to use aroma beads to create adorable air fresheners. You can put them in a jar, bag, or bake them into cute shapes!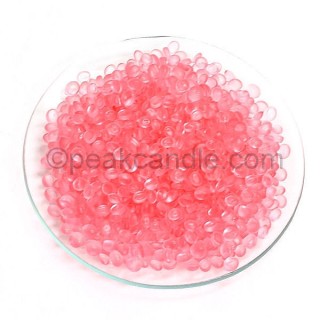 Scent the Beads:
Pour your aroma beads into a container that has a lid.
Add fragrance oil at about 1 to 2 oz of fragrance oil per pound of beads. The amount of fragrance oil needed will vary with each fragrance. Put the lid on the jar and shake it until the fragrance is completely mixed. Note: To add color to your beads, try using Peak's Concentrated Liquid Dyes. Dip a toothpick into the dye and then dip it into your fragrance oil to color the oil before adding it to your beads. We do not recommend using more than one drop of dye per pound of beads.
Allow the beads to cure for 24 to 48 hours until the beads are dry to the touch.
To Bake:
Preheat your oven to 200 degrees F.
Place a cookie cutter on a baking sheet and pour the beads into the cutter.
Bake for approximately 45 minutes at 200 degrees.
Allow the beads to cool completely before removing them from the cookie cutters. Note: You may wish to drill a hole in the top of the shape and tie a string through it to create a hanging air freshener.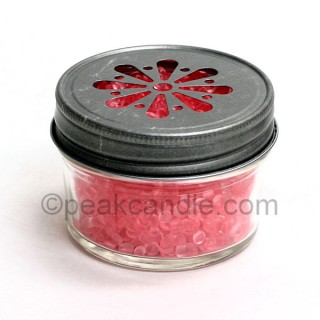 Jelly Jars and Mason Jars:
Peak's 4 oz. and 8 oz. Jelly Jars and 8 oz. and 16 oz. Mason Jars have gold and pewter daisy cut lids available to allow the scent to fill the room! You can place a small piece of mesh or tulle between the lid and the jar to make sure the beads do not spill out.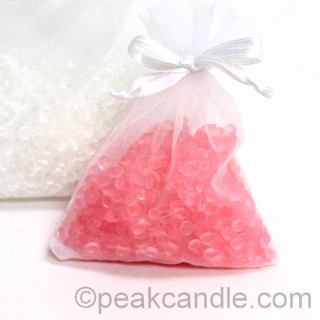 Sachets:
Also try pouring the beads into small organza bags to sell or give as gifts. These are handy to use in bedrooms, cars, and even offices. Tip: The bags can also be placed inside dresser drawers for lightly scented linens!